Dear Patients,
This may be an unprecedented time, but we all need to try and do our part by staying home and practicing physical and social distancing. This is for us, for our communities, and especially for our frontline workers, who are working day and night to keep us safe, fed and healthy.
To all our frontline heroes, we salute you!
Please show your appreciation by limiting your trips out of your home only for essential needs, wearing a face covering where appropriate, and staying at least six feet away from others outside your home.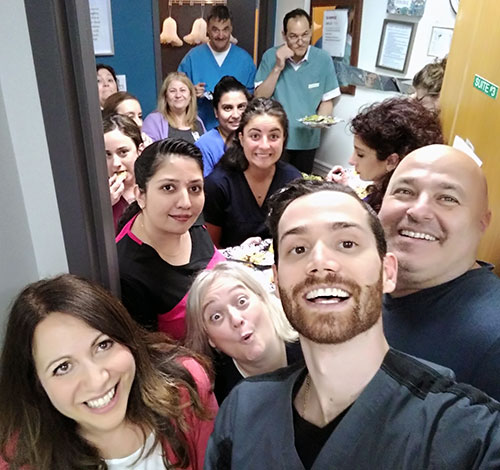 WE MISS YOU!
As you all know, our dental office remains closed in accordance with the recommendations of the province and our regulatory body. We are waiting for instructions on when we are allowed to resume regular dental services in accordance with the "opening up" plan for the province.
In the meantime, if you have any dental emergency, please call us and leave a message, or email us, as we are checking both regularly. We will do our best to assess your symptoms and give you guidance, referrals, or prescriptions over the phone. A list of dental practices open for emergencies that have the required safety precautions and PPE in place to manage emergency cases in person is also available.
We would like to take this opportunity to thank you for your trust and patience as we continue to work our way through this outbreak, meet the challenges together with a commitment to facts, and in the spirit of compassion for others. We hope you are staying healthy and safe, washing your hands, staying home, and maintaining social distancing.
We will keep you posted with any new updates. Wishing you good health in the days and weeks to come.
Sunday, May 10 is Mother's Day! There is nothing like a Mother's Love to give us all the strength we need to succeed.

Happy Mother's Day to all the amazing, admired & appreciated Moms, Aunts, & Grandmothers!

The Staff at Family Dentistry in Maple wishes you all a wonderful Day! ♥
Sincerely,
- The Team at Family Dentistry in Maple
---
Home Remedies for Dental Emergencies

With dental offices being closed due to the COVID-19 pandemic, it may be difficult to receive immediate dental treatment, especially if it is not considered a dental emergency.

According to the Ontario Dental Association, a dental emergency is:

A severe injury to the teeth, mouth, and/or face
Severe infection, like an abscess or swelling
Bleeding that doesn't stop
Dental pain that cannot be managed with over-the-counter painkillers
If you are suffering, but not with the symptoms stated above, here are a few home remedies you can try to relieve discomfort.
---
Louisiana Shrimp Étouffée

The quarantine has started a new movement of home cooking. People at home are experimenting with items in their fridge and pantry to pass their time and fill their souls. So, here's a recipe that does both while using ingredients that are mostly in your home. The best part is, you can substitute a few ingredients to your liking and just have fun cooking and serving this delicious seafood dish.