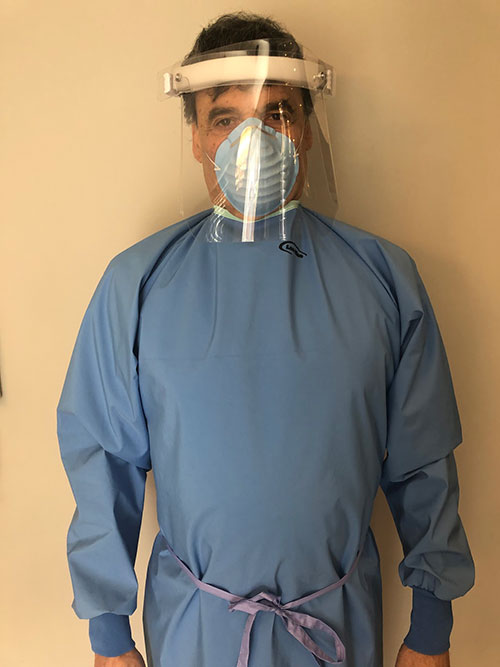 We may look a little different 😊, but we are still the same GREAT STAFF 💕
Dear Patients,
Life has been anything but normal this spring and we sincerely hope you and your family are in good health.
Although the Ministry of Health of Ontario and the Royal College of Dental Surgeons have given us permission to open up our clinics, we are still undergoing renovations to the office to insure that our office is able to give you the best environment for the safe delivery of dentistry. We hope to have it completed by June 13th. Please be patient with us. Once we are certain of the date we will call to reschedule appointments that were cancelled. Social distancing and enhanced disinfection will restrict our ability to see some of you as soon as we would like to.
Our office has always followed strict infection control standards and in order to keep us all protected during this pandemic and in the future, we are updating our protocols. When we see you at your next appointment, things will be a little different. Please refer to these protocols below so that you know what to expect when you attend your next appointment.
All patients must be pre-screened for COVID-19 symptoms and exposure before your appointment and you'll be asked those same questions again when you're in the office.
You will be asked to wait outside the building or your car and call us when you arrive. Please wait for a call back to let you know when you can enter the office. All people entering the building must be wearing a mask. We are only able to stock enough disposable masks for use of our staff, so we kindly ask that each person bring their own. Only the patient is permitted to enter the office. Some exceptions will be permitted for younger patients, patients who need assistance, and patients who require the presence of an adult when instructions are provided.
We have hand sanitizer that we will ask you to use when you enter the clinic. We will also be taking your temperature.
Appointments will be spaced out to allow for physical distancing between patients. That might mean less flexibility for scheduling your appointment, but it will also reduce the number of patients in the reception area at any one time.
You may be surprised that we're wearing more protective gear - such as masks, face shields, gowns - than we normally do during your visit.
When you are seated in the dental chair you will be given a hand sanitizer then asked to remove your mask. You will be given a rinse that greatly reduces the virus and bacteria in your mouth during your procedure. Once your appointment is completed you will be given a hand sanitizer and asked to put on your mask.
Before and after your appointment, the office is thoroughly cleaned with antiviral and bacterial cleaners.
Rest assured, all these procedures are designed to create the safest environment for you, other patients and our team. We are excited to welcome our patients back to Family Dentistry in Maple and to see you in person. If you have any questions, please let us know. To make an appointment, call our office at 905-832-5000. Thank you for your patience and loyalty throughout this ordeal. We value your trust and look forward to welcoming you back!
Sincerely,
To keep you SMILING we are open 7 Days Per Week
Monday:
Tuesday:
Wednesday:
Thursday:
Friday:
Saturday:
Sunday:

9am - 9pm
8am - 9pm
9am - 9pm
9am - 8pm
9am - 7pm
9am - 4pm
9am - 1pm
Now is the time to come in and see us.
You can either request an appointment online
or call us at (905) 832-5000.
- The Team at Family Dentistry in Maple
---
We Are Committed To Everyone's Safety
It's important to note the care and strict guidelines dental offices have always taken due to the nature of our work.
There are several steps that we are taking in order to make the transition back to reopen as safe, smooth and comfortable as possible. Even though you may see some procedural changes, our commitment to you stays the same. We continue to offer you professional, modern, comprehensive dentistry that you have come to know and trust.
Click here to see some of the addtional precautions we are taking
---
Blueberry Coconut Oatmeal Pudding

As days become longer during the summer, it's important we are all getting enough nutrients and calories that our bodies need to conquer the day! This recipe is quick and simple, packed with nutrient and healthy sweeteners to keep you energized in the morning. Blueberries can be highly effective at slowing down the rate of tooth decay. Whilst, oatmeal is filled with beneficial vitamins, fibers, minerals and antioxidants; as a bonus, they're gluten free!