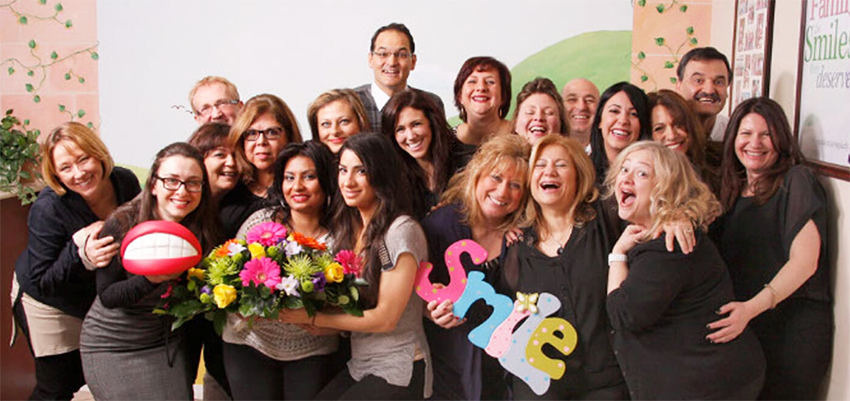 January 2016: Tips, eNews & More!

---

HAPPY NEW YEAR!

During 2015 we introduced two new dentists to our practice. Please help welcome them to the office!

Welcome Dr. David Goldberg and Dr. Art Zatsepin



| | |
| --- | --- |
| | |
| Dr. Goldberg | Dr. Zatsepin |



Dr. Goldberg is honored to join the professional and caring dental office at Family Dentistry in Maple. He feels it is a privilege to be part of such a dynamic team and looks forward to providing the Vaughan & Maple community with the best possible dental care.

Dr. Zatsepin is happy to join this first class dental office. He looks forward to meeting you and providing you with the excellent and gentle care you have come to expect.

What Are Your New Year Resolutions?

We hope you enjoyed a wonderful holiday season and you are feeling relaxed, refreshed and ready for the year ahead!

At this time of year, we tend to make grand resolutions that we have every intention of keeping until and our busy schedules get in the way. This year, we suggest making smaller, more concrete resolutions that will help to improve your health and well-being in 2016:

Get in shape Spend at least 20 minutes walking daily
Eat healthy Have one fruit or vegetable with each meal
Be more grateful Write down one thing you are thankful for every morning
Avoid stress Meditate for 10 minutes each day
Unplug Shut off all devices/electronics one hour before bed

Do You Have Any Outstanding Dental Work?

As we mentioned in December, your health benefits may be based on the calendar year, and if you have any outstanding dental work to be completed, now is a great time to come in and see us. You can request an appointment here.

Thank You for Donating to Our Food Drive!

Thank you to all of our patients who contributed in our annual food drive last month. We were able to provide canned goods to the less fortunate before the holidays All of those who donated were entered in a draw for a gift basket from Expressions by Gina.

Congratulations to our winner Vitale L!



To keep you SMILING we are open 7 Days Per Week

Monday: 9am - 9pm
Tuesday: 9am - 9pm
Wednesday: 9am - 9pm
Thursday: 9am - 8pm
Friday: 9am - 7pm
Saturday: 9am - 4pm
Sunday: 9am - 1pm

Now is the time to come in and see us. You can either request an appointment or
call us at (905) 832-5000.

Have a great month,

- The Team at Family Dentistry in Maple

---

What is Dental Bonding?

Bonding is a composite resin filling placed on your teeth. Composites are the materials used for restoring decayed teeth, making cosmetic improvements and even changing the colour and reshaping of teeth. Bonding can be used lighten any stains you may have, close up minor gaps and correct awkward looking crooked teeth.

Bonding has become a common procedure and can usually be completed in one short visit. Bonding will cover any natural flaws by first applying a thin coating on the front surface of your teeth to which the bonding material is applied.

Click here to learn more about dental bonding.

---

Vegetable Stew

Winter is here, and warm stews are officially in season!

This hearty stew filled with nutrient-rich root vegetables is perfect for those cold evenings when you need a tasty dinner that packs a nutritious punch. Prepare on the stove-top, or throw it all in the slow cooker for a meal that practically makes itself.


Click here for the full recipe!