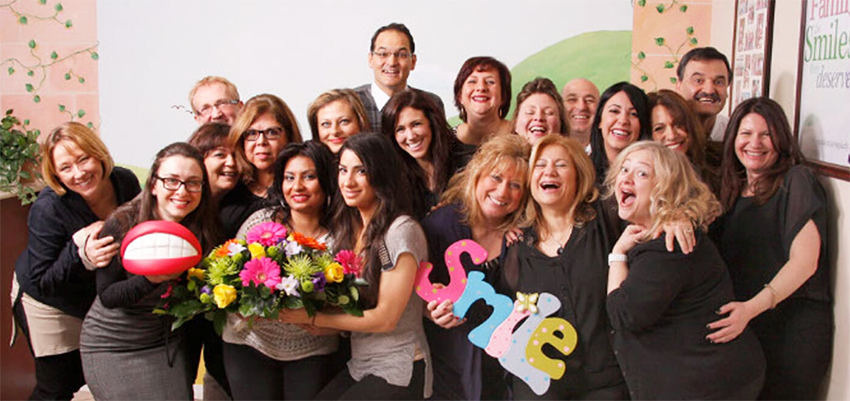 December 2015: Tips, eNews & More!

---

Where did the time go?

The holiday season is almost here!

We hope you had a chance to see us at Santa Fest. We had a blast!

We have just completed our 7th year of participating in the Santafest Parade. I would like to thank all or our staff who marched with tremendous spirit. We also had many family members and high school students from St. Joan of Arc and Maple High School who helped prepare for the event and were enthusiastic participants. I would especially like to thank all the organizers who volunteer their time to make the parade such a success. We look forward to Santafest 2016.

The winter holidays is a great time to spend time with friends and family during the holidays but don't forget to give back! This year FAMILY DENTISTRY IN MAPLE will be holding a canned FOOD DRIVE to help the less fortunate. If you would like to help come by our office anytime before December 16th so these goods can be delivered to those in need in time for Christmas. For those who donate you will have the chance to fill out a ballot and be entered to win a beautiful gift basket from Expressions by Gina.

Plan your holiday shopping early:

Whether the gifts are big or small and the holiday dinner ham or turkey, it's never too early to plan ahead. Outline a budget and make note of everything you will need to purchase early to avoid that last minute holiday rush and dinner disaster.

Be mindful of your oral health:

It is okay to indulge in all the holiday treats and feasts, but don't forget about your teeth! Although travelling can disrupt your regular brushing and flossing routine, we want you to welcome the New Year with a healthy smile!

Happy Holidays from Our Family to Yours

We would like to take this opportunity to say "Thank You" to you, our valued patients, for a wonderful 2015. We cannot adequately express our feelings and appreciation for all of our patients in Maple and surrounding area. It is our sincere intention that you experience this when you visit our office. We hope during the holiday season, everyone enjoys the joy, spirit and festiveness of the season. We look forward to seeing you in the New Year.

To keep you SMILING we are open 7 Days Per Week

Monday: 9am - 9pm
Tuesday: 9am - 9pm
Wednesday: 9am - 9pm
Thursday: 9am - 8pm
Friday: 9am - 7pm
Saturday: 9am - 4pm
Sunday: 9am - 1pm

Now is the time to come in and see us. You can either request an appointment or
call us at (905) 832-5000.

Have a great month,

- The Team at Family Dentistry in Maple

---

Do You Need a Dental Implant?

It is more appropriate to think of a missing tooth as a space where a tooth used to be. Beyond aesthetics, a tooth's purpose includes acting as a chewing surface, holding its place relative to other adjacent teeth, maintaining the bone structure where it was rooted, and many other structural and preventative roles. Without that tooth in place, surrounding teeth can shift causing gaps and making decay, bone loss and damage more likely.

The area can also become more apt to periodontal disease and many other conditions.

Click here to learn more about dental implants.

---

Cranberry Orange Bread

Shortbread cookies, chocolate macaroons, gingerbread men- we all know what treats to expect during the holiday season. This year, stand out from the crowd at your family get-together or your office holiday potluck by bringing something new to the dessert table.

This fruity snack is great for after dinner or with your morning coffee. That's real dessert versatility!


Click here for the full recipe!